Majestic Monteverde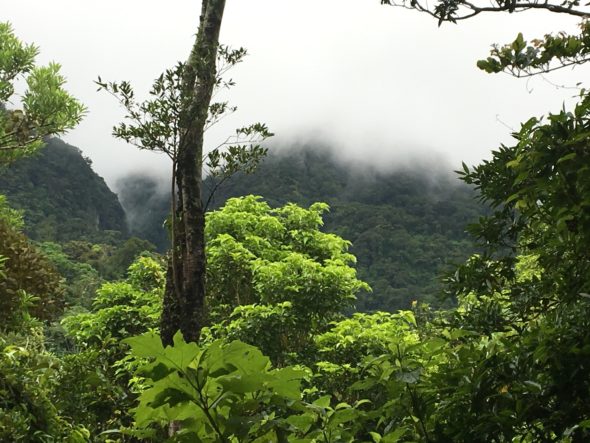 "Do you want to go meet a bunch of crazy scientists running around?" my friend asked me. The invitation was a bit more seductive than that: there was going to be a meeting of ecologists at the University of Georgia Field Station near Monteverde and it promised to be very interesting. Scientists, farmers, and civilians were getting together to talk about reforestation, biological corridors, and soil regeneration. The conversation would result in a proposal for project funding a new biological corridor.
Ecological rejuvenation is a strong focus here in Costa Rica, a country with an agricultural economy that has increased forested lands from 27% to 55%. Also, nearly 100% of its electricity comes from renewable sources. But this work isn't just important to Costa Ricans: the work that scientists do here offsets carbon pollution all over the world. In other words, the crazy scientists are making life better for everybody. It would be an honor to meet them and see what they were up to.
The Field Station was in a small town called San Luis, just by Monteverde's town and biological forest.
Originally an eco-lodge, it was purchased by the university and turned into a research center for students and scientists. There are labs on campus, and they regularly hosts talks on climate and environmental issues.
Driving to the field station, I was reminded of photos I have seen of Machu Picchu. A windy gravel road takes you up the green mountains. The trees are tipped by misty clouds, which are formed from sea condensation that gets carried there by the wind and then trapped.
The field station is actually a converted eco-lodge. Housing are cabins with bunk beds, the food is in a mess hall, and it's filled with UGA students. I was thinking how easy it was to feel young again, until the students started addressing me as "M'am!"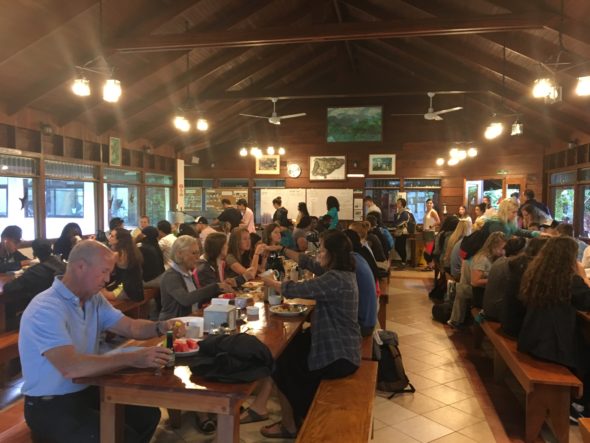 The conference was conducted in Spanish language, so I didn't fare as well there as I had hoped, but it was still interesting. I gained a new appreciation for these exotic forests, which are home to pizotes, sloths, blue morpho butterflies, and butterflies with transparent wings!
On the field station property there is also a magical botanical garden where you can experience many of Costa Rica's incredible plants, all in one place (just beware of the dangerous datura, a plant with harmful psychedelic properties if eaten or smoked!!!)  The Field Station also has many, many incredible hiking trails, with no other souls in sight.
If you are further interested in ecology, check out the work of Monica Araya, a Costa Rican Yale PhD who is spearheading a movement for Costa Rica to go 100% free of fossil fuels.
Pura vida!
Karen
Univerity of Georgia Field Station:
https://www.externalaffairs.uga.edu/costa_rica/
What is a cloud forest?
http://www.canopyintheclouds.com/learn/
Ideas from Monica Araya:
https://www.ted.com/speakers/monica_araya
---
Karen Henson Jones is the author of Heart of Miracles, a spiritual travelogue. She is also a Philip Stein Global Filipino Hero and speaker for Women in Leadership's Economic Forum. www.karenhensonjones.com