A Retreat for Creativity and Craft
I've admired the Harmony Hotel's commitment to sustainability and tranquility, and their love affair with this sleepy town since I started coming to Nosara in 2011. One of the things I love so much about Nosara is the way this town provides for the people in it – how the heat forces a balance between work and relaxation; how the sweet smells add calm to a surfing lesson. A couple years ago, I was brainstorming retreat ideas at the Harmony Juice Bar and realized that despite the plethora of retreats  in and around Nosara, none offered the right creative component.  I was curious how different crafts and disciplines could play off each other in a workshop environment: would a yoga class in the morning influence flower arranging in the afternoon?
When the Harmony Hotel stepped in to host Peartree's inaugural workshop, it all came together. Last November, the first Pura Vida Peartree workshop was launched, combining creativity, physical activity, ocean marveling, and human connection. We turned the yoga/surf retreat paradigm on its side, injecting flower arranging classes, macrame lessons, and shibori tie dying into the week's curriculum alongside jungle vinyasa and Guiones surfing, of course.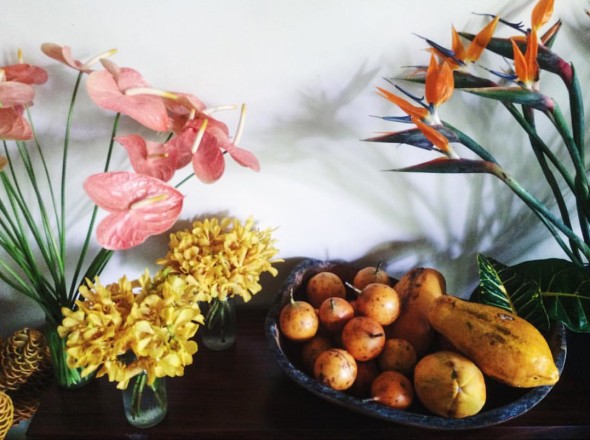 Our students were able to experiment with locally-sourced Costa Rican product including mokara orchids, anthiriums and local fruits like passion fruit and papaya to create tropical pieces with a loose, whimsical flair.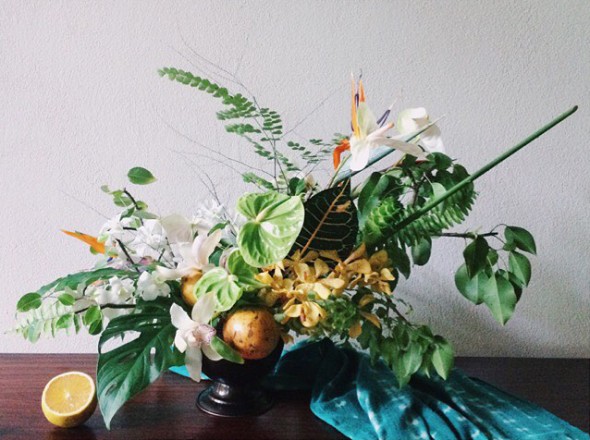 We had fun styling each student's arrangement, collaborating and taking photos so that each student could go home with a portfolio of his or her own work.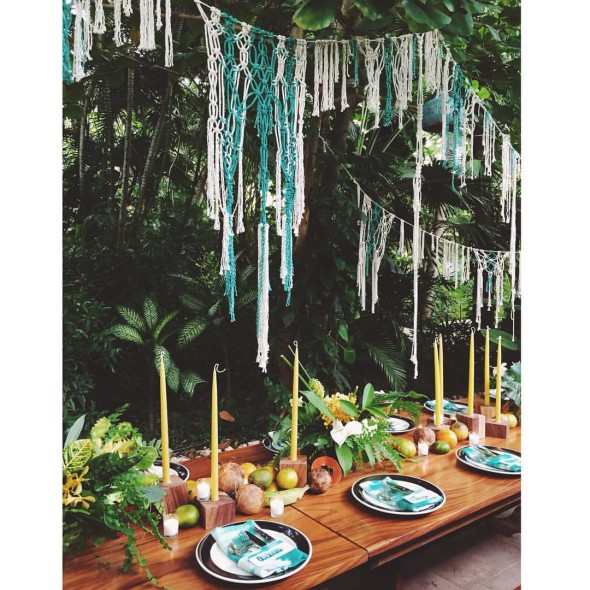 Our week culminated with a beautiful styled Tico dinner at the Harmony's Restaurant that brought together the creative courses of the entire week. We divided the group into teams to work on portions of the evening's decor. Some people worked on the macrame installation (lead by macrame wizard Emily Katz). Others began work on the table's flowers. We rotated throughout the day so everyone could touch all parts of the design. Teachers stepped out of their disciplines to work in new spaces; even our yoga teacher (the incomparable Emily Shapiro, a Nosara fixture) had a hand in the creative makings of the evening.
My favorite part of the evening was when everyone began eating the papayas straight from the table after dinner. It eliminated the museum-like quality some styled events portray and instead got to the core of the workshop's motivation.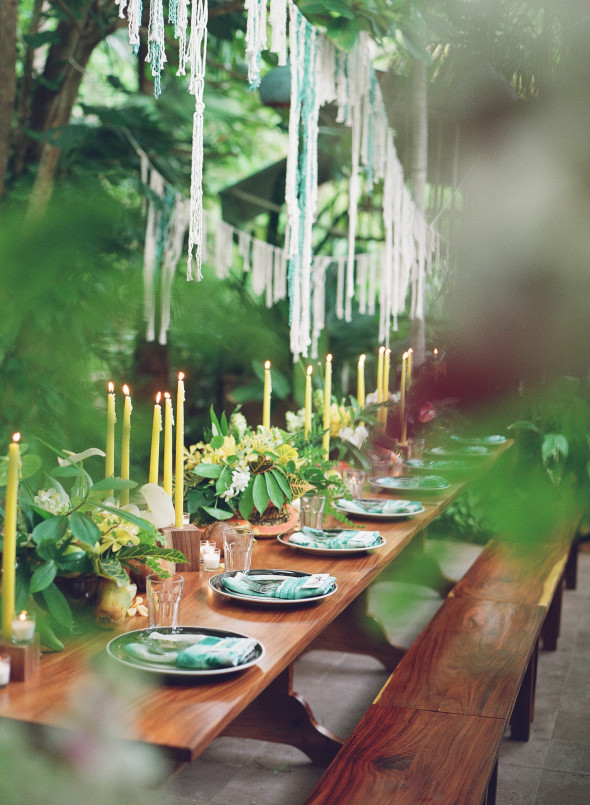 Nosara holds a balance of personal and community space unlike any I've ever encountered. The people that connect with Nosara forge that connection from different beginnings, and with different ends in mind.  But if they do fall in love with being here, as I have, there's a unifying sense of place, of collaboration and kindness, where each person's passion can support and elevate another's.  The students at last year's  Pura Vida Peartree were each creating for their own sakes, for their own enrichment and enjoyment.  But the collaborations are what elevated each of us, myself included, and the results were beyond my expectations.  I'm so thrilled for the next round of Pura Vida Peartree which will be held at the Harmony November 11-17, and over the next few weeks I will be writing more here about the different workshops we'll be featuring this time. For more information, please email me at: info@peartreeflowers.com
---
Liza Lubell is the owner/founder of Peartree Flowers in New York City.