HALLOWEEN PARTY TO BENEFIT NYC SURFRIDER FOUNDATION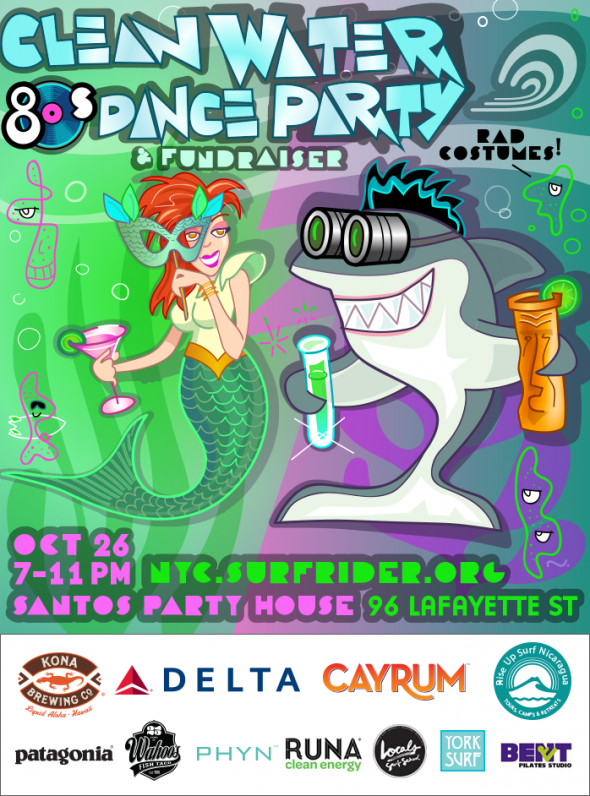 What's the most frightening part of being a New York surfer in 'off season'? Taking a chance on water that's untested for harmful bacteria. During the summer months, when beaches are protected by the city, the waters are tested regularly and notices are posted on days when the ocean is deemed dangerous (luckily these posts are very few and far between).  But as soon as Labor Day hits, it's up to the surfers to determine what's safe and what's not (for an idea of why this is scary, check out this blog post). Surfrider wants to change that through daily testing. The hope is that these tests will not only serve to warn people when it's unsafe to paddle out, but they will also raise awareness about what's going into our waters. Raising awareness is the first step to implementing change.
The event will take place on October 26th and will feature a dj, raffle prizes like a free flight and a free stay at a Nicaraguan surf camp and movie showings. Additionally, Brooklyn-based artist Magdalena Marcenaro will create a piece on-site around the themes of clean water and NYC. Party goers will have chance to bid on a unique piece of art from this vibrant artist. A limited number of tickets are available for early purchase at a discounted price of $30.  When those run out, general admission tickets will run $40.  All proceeds go to the NYC chapter of Surfrider for this project.  See you there!
More info here.