New York Screening: Nathan Oldenfield's The Heart and The Sea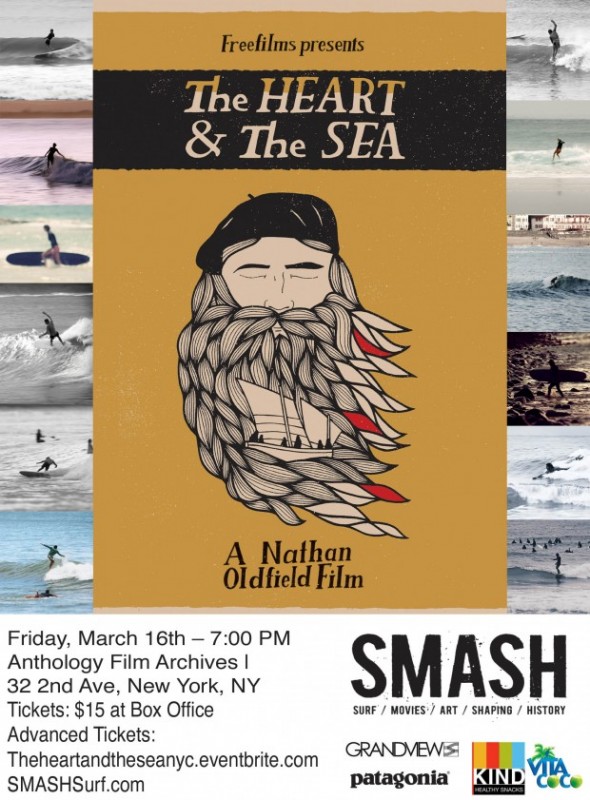 If you're going to be in the New York area on March 16th, stop by this screening of Nathan Oldenfield's The Heart and the Sea. For those of you who haven't seen his last film, Seaworthy, take the time to.  It not only features some great surfing, but it's one of the most heartfelt surf films I've ever seen.  More on the event, which benefits the victims of Sandy, are below.  See you there!
SMASH PRESENTS THE NEW YORK PREMIERE OF THE HEART & THE SEA AT ANTHOLOGY FILM ARCHIVES
SMASH Productions presents the New York Premiere of "The Heart & The Sea" on Saturday March 16th, 2013 at Anthology Film Archives. This is the third release from independent Australian filmmaker Nathan Oldfield, the creator of the highly regarded left of centre surf films "Lines From a Poem" and "Seaworthy". Over three years in the making, "The Heart & The Sea" explores the joy that lies at the very centre of a surfing life: family, friends and a shared intimacy with the sea. Filmed in stunning locations in Australia, New Zealand, France and Spain, this is a gently refreshing & quietly enchanting contribution to the surf film genre.
"The Heart & The Sea" features Dave Rastovich, Lauren Lindsey Hill, Alex Knost, Tom Wegener, Sage Joske, Brett Caller, Johnny Abegg, Kassia Meador, Clovis Donizetti, Belinda Baggs, Paul Joske, Ryan Burch, Chris Del Moro, Matt Chojnacki, Jared Mell, Dane Peterson, Joel Tudor, Harrison Roach & many others.
Following "The Heart & The Sea" Premiere,  an after party fundraiser for Waves for Water will be held at The Rogan Store, 330 Bowery, where drinks, music and good times will be had, whil raiding funds for Hurricane Sandy Rebuilding and Relief. Tickets for the after party will be sold seperately.
Free snacks and beverages will be provided by  Kind Healthy Snacks and VitaCoco.
March 16th, 7 PM at Anthology Film Archives: 32 Second Avenue New York, NY 10003 On the corner of East 2nd Street & 2nd Ave.
Supported by Patagonia, KIND Healthy Snacks, and VitaCoco.
Purchase Tickets Here: www.Theheartandtheseanyc.eventbrite.com